EcoAir Diversifies Product Range with Launch of State-Of-The-Art DC Fans
Keep cool as the weather heats up again this summer with EcoAir's energy efficient fans.
EcoAir has launched its first low energy, high performance, ultra-quiet DC fans, offering up to 35 speed settings as opposed to the usual two or three, consuming up to 70% less energy, and featuring unprecedented low noise levels, from only 27dB.
The new AURA and Zephyr fans provide a more affordable alternative to portable air conditioning and are the perfect solution for the sporadic heatwaves we've been experiencing in the UK this summer.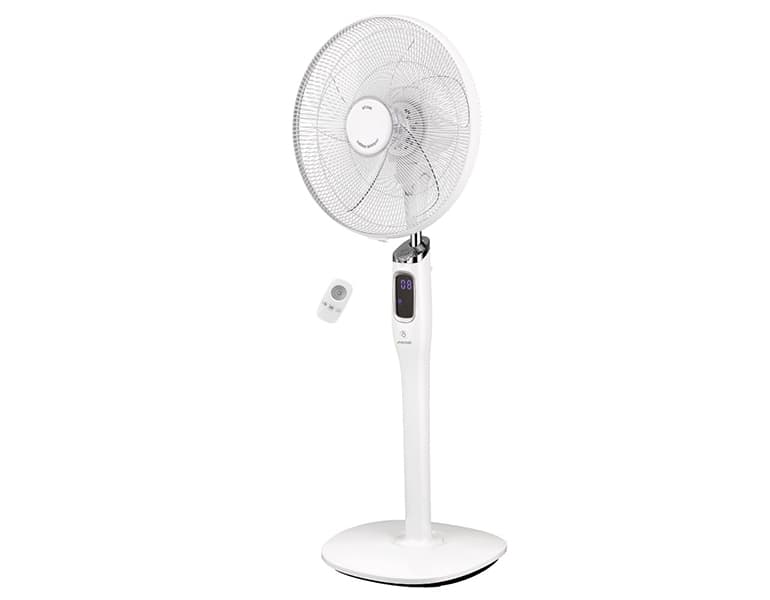 Ideal for the home or office, they offer a sleek and modern design complemented by a multitude of practical features, including heat temperature sensor, wide-angle oscillation, on-off timer, large backlit LED display with night function, and a convenient remote control.
The majority of fans currently sold in the UK are powered by AC (alternating current) and typically run at around 45 watts. DC powered fans receive direct current, which makes them much more energy efficient, running from 0.35 watts on an ultra-low speed, up to a maximum of only 27 watts on the highest setting. So as well as providing a more environmentally friendly option, EcoAir's DC fans also help to lower household energy bills. This is even true in winter, with the fans improving the circulation of heated air within the home, resulting in a more efficient heating system and thus, lower bills.
Powered by a PCB (printed circuit board), a DC motor also enables far greater personalisation, making these fans suitable for a wide variety of needs. Programmable settings available with the AURA and Zephyr include an ultra-quiet 'Sleep Mode', a 'Nature Mode', which mimics the outside breeze using different fan wave patterns to enhance calm and relaxation, and a special energy saving 'Intelligent Mode', which senses the temperature within your room and engages when this rises above 20 degrees.
"The addition of fans to our product range was a no brainer," says Sally Fok, EcoAir co-founder and MD. "This new technology has allowed us to create a cutting edge product that also aligns with our ethos of promoting wellbeing, energy efficiency and innovation. Good air circulation helps in all sorts of ways; ventilating living or working areas to promote wellbeing and keeping heating or cooling bills down."
Currently priced from only £79.98 and available in black (AURA) and white (Zephr), EcoAir's new DC fans are available to purchase via http://ecoairdirect.com.
For more information on EcoAir or the new DC Fans, visit http://ecoair.org.
-Ends-
Notes to Editors:
Sally Fok, co-founder and MD of EcoAir, is available for comment or interview and can provide expert input or tips for features on air treatment.
For further press information:
Julie Aguilera/Allie Ford
Rooster PR
T: +44 (0)20 3440 8930
E: [email protected]
About EcoAir
Launched in 2006, EcoAir is one of the leading suppliers of air treatment products in the UK and the #1 supplier of desiccant dehumidifiers. It is the driving force behind the introduction of desiccant dehumidifier technology in the UK and one of the first to bring desiccant dehumidifiers to the semi industrial market.
EcoAir boasts the largest range of desiccant dehumidifiers for the domestic market in the UK and is the only company currently to offer a 10L capacity desiccant dehumidifier for UK domestic use.
Providing the most honest and accurate product specifications, EcoAir is committed to bring products to market that give much better results than those of competitors.
Specialising primarily in dehumidifiers (desiccant and compressor), EcoAir also offers fans, air purifiers and air conditioning units (portable, wall mounted, multi split, window or ceiling cassette units).
With a dedicated R&D team, EcoAir has in the last 3 years invested heavily in improving the desiccant technology and specifications. EcoAir believes that all companies have a social responsibility to achieve sustainability. Many AC and dehumidifier products on the market still contain HFC gas, which is harmful to the environment. EcoAir's R&D is focused on working with sustainable sources to eliminate the need for HFC gas in its products.
For more information, visit http://ecoair.org, or follow EcoAir (@EcoAirGB) on Facebook, Twitter and Instagram. To purchase an EcoAir dehumidifier, go to http://ecoairdirect.com.