Cyprus for Wine Lovers
Expect a warm welcome at the home of the world's oldest named wine.
Cyprus might not be well known for its wine but the island has a longstanding tradition of wine-making. In fact, Cyprus is home to the world's oldest named wine still in production: 'Commandaria', which Richard the Lionheart described as the "wine of the kings and the king of the wines." Cypriot wine-makers still cultivate the same ancient grape varieties but now combine old traditions with modern technology to create a diverse product offering: red, rose, white, dessert wine, Zivania and the legendary Commandaria itself.
Here, the Cyprus Tourism Organisation (CTO) gives an overview of each of its seven scenic wine routes which will be sure to please everyone from wine connoisseurs to simple lovers of the 'nectar of the Gods':
1. Route: Commandaria
Best for: A trip back in time revealing the secrets of the island's most ancient wine
About: This route unveils all the secrets of Cyprus' world-renowned Koumandaria (or Commandaria) which won the first recorded wine-tasting competition in history. The sweet dessert wine dates back to 1192AD when it was being produced and exported by the Knights of St. John.
How Commandaria is made: Cyprus' indigenous Mavro (red) and Xynisteri (white) grapes are picked late in the season and dried in the sun to enhance their sugar content. This is what makes the wine much sweeter and gives the famous drink its distinctive taste. The grapes are then pressed with the run-off collected and fermented in tanks or huge, traditional earthenware jars.
Passes through: Lemesos (Limassol), Kolossi, Erimi, Monagri, Agios Georgios, Silikou, Doros, Laneia, Trimilkini, Agios Mamas, Kapileio, Zoopigi, Kalo Chorio, Agios Pavlos, Agios Konstantinos, Louvaras, Gerasa and Apsiou.
Don't miss: Laneia's refurbished wine press which is centuries-old
Also visit: The medieval castle of Kolossi, once the base of the Knights of St. John, and the Kouris Dam, the biggest in Cyprus.
2. Route: Diarizos Valley 
Best for: An idyllic route off-the-beaten-track
About: The route along the Diarizos river passes lush, unspoiled landscapes dotted with beautiful vineyards. This is one of the lesser-known wine-making areas as it's situated at a much lower altitude; however, things are changing and modern technology has helped the area raise its game, placing it firmly on the map as a competitive wine-making region. There are 18 different types of vine in this region but the most predominant variety is the local Mavro (red) grape.
Passes through: Pafos, Acheleia, Kouklia, Nikokleia, Choletria, Stavrokonnou, Kelokedara, Salamiou, Mesana, Arminou, Filousa, Agios Nikolaos, Praitori, Kedares, Agios Georgios, Mamonia and Fasoula.
Don't miss: The most significant two of the 14 wine-making villages in the hills – you'll be warmly welcomed by the locals!
3. Route: Krasochoria of Lemesos (Limassol)  
Best for: Renowned wine villages, each with their own tradition and character
About: The 'Krasochoria' (translated as 'wine villages' in English) located on the Southern slopes of the Troodos mountain range have the greatest concentration of wineries in Cyprus. There are 20 picturesque villages in total with traditional Cypriot architecture, narrow cobblestoned passageways and 16 wineries between them. This stunning region is blessed with a dry climate which makes for first-rate wines. The main varieties produced here are from the local grape varieties Xynisteri (white) and Mavro (red), as well as around 23 imported varieties, including Cabernet Sauvignon, Mataro, Grenache and Syrah.
Passes through: Lemesos, Kolossi, Erimi (Cyprus Wine Museum), Kantou, Souni-Zanakia, Pano Kivides, Agios Amvrosios, Lofou, Vouni, Koilani, Pera Pedi, Mandria, Kato Platres, Omodos, Vasa, Malia, Arsos, Pachna, Anogyra and Avdimou.
Don't miss: The Koilani and Omodos wineries
Also visit: Some of the local taverns – this area is said to have the best on the island – to sample delicious, traditional Cypriot cuisine.
4. Route: Laona to Akamas  
Best for: Beautiful beaches, rugged coastlines and picturesque villages
About: This wine route is situated on the north-western shores of Cyprus and are home to the full-bodied, indigenous Xynisteri (white) grape variety, which is said to grow so well thanks to the temperate climate and sea breeze. The wines produced here are among the best white wines produced on the island as well as some of the best reds, which come from the rare Maratheftiko grape.
Passes through: Pafos (Paphos), Mesogi, Tsada, Stroumbi, Kathikas, Akourdaleia, Pano Arodes, Kato Arodes, Ineia, Drouseia, Polis and Pegeia.
Don't miss: The opportunity to visit the stunning Akamas Peninsula.
Also visit: The region's traditional tavernas.
5. Route: Mountainous Larnaka (Larnaca) to Lefkosia (Nicosia)
Best for: A variety of local culture and handicrafts
About: This route passes through three wineries and 10 villages as well as a selection of museums and workshops. There are a wide range of grapes growing here including the white varieties of Assyrtiko, Malvasia Aromatica, Chardonnay Xynisteri and Sauvignon Blanc, and the red varieties of Maratheftiko, Cabernet and Merlot
Passes through: Lefkosia, Skarinou, Lefkara, Kato Drys, Vavla, Ora, Odou, Farmakas, Gourri, Fikardou and Kalo Chorio.
Don't miss: The village of Lefkara, which is famous for its delicate filigree silverware and handmade lace embroidery.
Also visit: Fikardou to see one of the oldest traditional wine presses in Cyprus.
6. Route: Pitsilia
Best for: Beautiful scenery, quaint villages and excellent wine
About: These villages are dotted along these mountain peaks of Madari, Machairas and Papoutsa. The high altitude contributes to the high-quality grapes which mature more slowly and the arid, sloping ground forces the vines to huddle together for a much richer wine. Pisilia, one of the 11 renowned villages along this route, is a winner of the Nom d'Origine.
Passes through: Lemesos (Limassol), Trimiklini, Pelendri, Potamitissa, Dymes, Kyperounta, Chandria, Polystypos, Alona, Agros, Agios Ioannis and Agios Theodoros.
Don't miss: The stunning views.
7. Route: Vouni Panagias to Ambelitis
Best for: Panoramic views and stunning mountain terrain
About: At 2,400 feet above sea level, this area produces delicate white wines which taste of peaches, green apples and apricots. The 10 wineries in this route produce 27 varieties of grape, mainly the local Xynisteri (white) grape as well as the Maratheftiko and Mavro (red) grapes, Carignan Noir and Cabernet Sauvignon.
Passes through: Pafos (Paphos), Mesogi, Tsada, Stroumbi, Polemi, Psathi, Kannaviou, Asprogia, Pano Panagia, Chrysorrogiatissa, Agia Moni, Statos-Agios Fotios, Koilineia, Galataria, Pentalia, Amargeti, Eledio, Agia Varvara and Acheleia or Choulou, Lemona, Kourdaka, Letymvou and Kallepeia.
Don't miss: The fragrant pine forests and unique flora and fauna to be seen along the route.
Also visit: The villages Vouni Panagias, Chrysorrogiatissa and Agios Fotios, which boast some of the island's best Mavro (red and rose) grapes.
Please see below for a map of Cyprus' seven wine routes: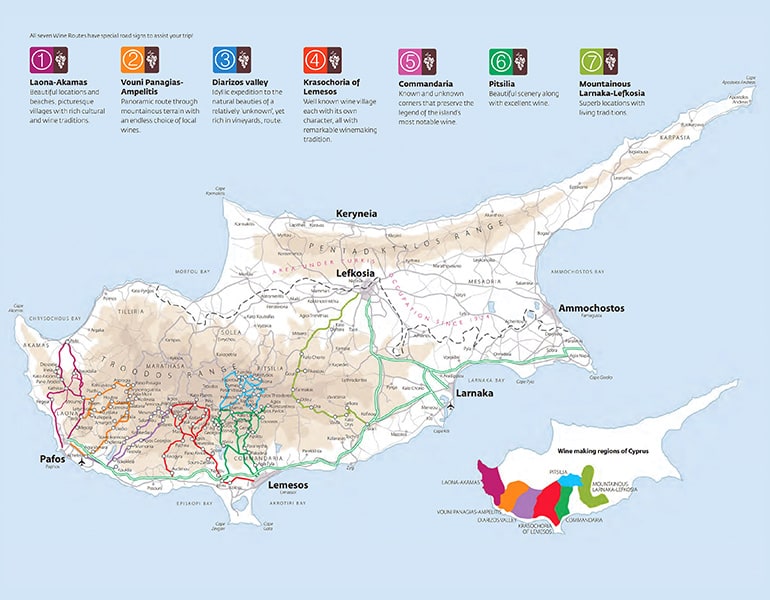 The Limassol Wine Festival
The Limassol Wine Festival takes place in the Lemesos (Limassol) Municipal Gardens in August/September each year. Each evening, about 15,000 visitors come to join the Dionysiac celebrations and sample the local wine and delicious Cypriot dishes as well as enjoying singing, dancing, poetry and drama.
Enjoy Cypriot Wine in the UK
At the Cypriot Wine Festival, which takes place each year in the UK, a large array of companies both from the UK and Cyprus exhibit their goods so you can enjoy your favourite Cypriot wine at a great price.
Cyprus – the third largest island in the Mediterranean – attracts over two million tourists annually. Cyprus is a year-round island appealing to a wide range of personal tastes and lifestyles, from families and couples, to the most discerning of culture and nature-oriented travellers.
Getting there: Monarch, the scheduled leisure airline, operates flights and holidays to Paphos from Birmingham and London Gatwick airports with fares, including taxes, starting from £52 one way (£139 return). Flights to Larnaca from Birmingham, London Luton, London Gatwick and Leeds Bradford airports with fares, including taxes, start from £63 one way (£133 return) For further information or to book Monarch flights and Monarch Holidays, please visit www.monarch.co.uk
For more information, go to www.visitcyprus.com, www.facebook.com/visitcyprus.uk or www.twitter.com/visitcyprus.
-Ends-
For further press information, please contact:
Melissa Hobson/James Brooke
Rooster PR
T: +44 (0)20 3440 8927
E: [email protected]
About the Cyprus Tourism Organisation
Cyprus – the third largest island in the Mediterranean – attracts over two million tourists annually. Cyprus is a year-round island appealing to a wide range of personal tastes and lifestyles, from families and couples, to the most discerning of culture and nature-oriented travellers.
Tourists are attracted by the island's legendary hospitality, glorious coastline and stunning mountain villages. There is something to suit everyone – family resorts, world class spas, golf courses, marinas, agro-tourism and food and wine trails. The active can enjoy the warm waters of Cyprus for diving and waterskiing while adventure seekers can explore the island's beauty with trekking or bird-watching tours, while golfing enthusiasts play on award winning courses.
The island boasts the cleanest bathing waters in Europe, combined with a rich cultural heritage, a variety of agro-tourism projects and a wide choice of special interest activities.