Student Accommodation of the Future Revealed
Holographic receptionists, buildings that predict faults before they even happen and controlling your room through your phone.
When you think of student accommodation, you might think of small, cramped, slightly grubby halls of residence. But that stereotype is far from the truth – not only are students now staying in top accommodation (some with slides, grand pianos or their own cinema rooms!), but the student of the future will be living in even more incredible digs.
Here, the experts at Mystudenthalls.com – the original dedicated student halls search engine – have teamed up with internationally acclaimed designer Alexander Purcell Rodrigues of APR Design – currently designing the interior environments for Ziggurat Students' new locations – to reveal the student accommodation of the future…
Check in with a holographic receptionist
Soon, AI receptionists may well become the norm for many students – augmented reality will give them an instant bearing in their new city providing directions, useful services and points of interest. 'Tele-relationship services' will combine AI and holographic avatars to allow for real-time interactions. From streamlining check-in to personal notifications (e.g. "you have received a package"), this technology could provide 24/7 assistance to students, many of whom will be living away from home for the first time.
Charge your device anywhere 
Induction charging is hitting the mainstream with technology becoming available that allows charging coils to be incorporated into the fabric of a building. So, students will be able to charge their electronic devices simply by placing them on top of any surface.
Smart Buildings that predict and solve problems before they exist
As building systems become connected to the internet, we'll see the rise of "smart buildings" where buildings will predict maintenance issues before they exist and warn management teams. So, for example, they'll receive an alert before a boiler part needs to be replaced or the fridge needs to be serviced, resulting in fewer maintenance issues causing disruption for students.
Interacting with the building through your phone
On a more personal level, students will be able to communicate with the building through their phone. They might schedule washers and dryers to be alerted when the cycle has finished, book study rooms or shared bicycles and have their daily schedules and directions sent to them using push notifications as they walk out the door. Similarly, they could even get a notification to switch their lights off as they leave!
Smart, eco-friendly buildings

Smart buildings will also be greener, cleaner buildings. They will be able to manage their own systems, controlling energy consumption, temperature and air quality based on room occupancy at any given time of the day. Plus, Tesla solar roof panels will be a commonplace way of sourcing energy – students could even use them to charge their electric cars.
Carbon Negative Concrete
Environmentally-friendly options will pervade student accommodation design – right down to using recycled and renewable building materials. For example, carbon negative concrete substitutes are now available that are made of 95% recycled materials. These materials hope to replace the billions of tons of concrete produced each year and actually absorb carbon monoxide during the hardening process rather than creating it.
Hotel-style communal areas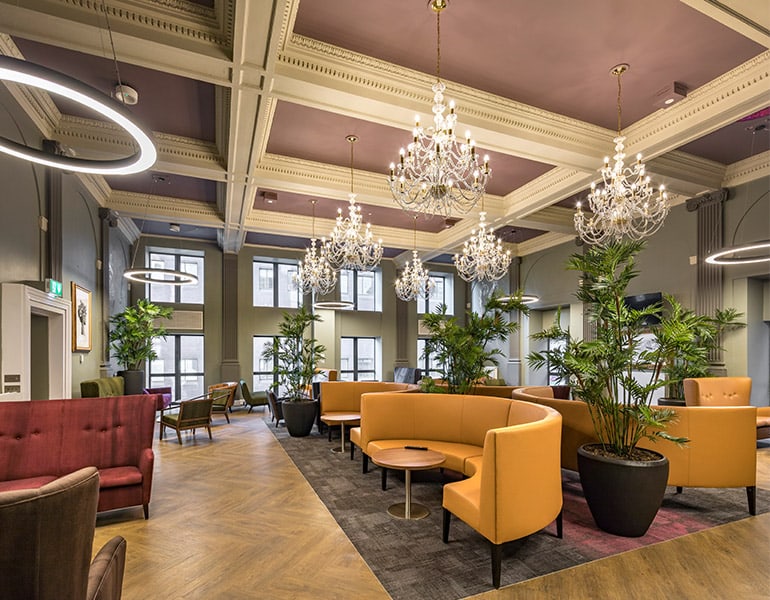 Living in student accommodation is the only time you're likely to sleep, study, cook, entertain, socialise, and relax all in the same place. Designers are beginning to adjust plans to account for how pivotal communal areas are in student life – some of the most prolific millennial start-ups have been born between university flatmates! In the future, we're likely to see a relaxed hotel-style lobby at the core of every hall, where you'll find the reception, café, an informal break out area and social hub with separate group study rooms, screening rooms, function spaces and games areas dispersed through the buildings.
No more dining tables
In a 'normal' kitchen, the cabinets are usually located around the walls with a dining table in the middle. But students – who are all on differing schedules – will rarely sit down at a dining table together. Instead, imagine a kitchen space where the dining and cooking areas are blurred – so at any one time, some students might be cooking, others preparing food, eating or perched at the counter having a tea break. This creates a better flow for multiple people with their own lives and schedules to cook, eat and interact simultaneously.
The perfect environment, tailored for you

The internet of things offers huge potential for students to tailor their personal environment for a maximum sense of wellbeing. This could be anything from changing their lighting level and tone to creating the perfect environment for every aspect of their day, be it studying, reading, socializing or watching TV.
Mystudenthalls.com is the UK's first and most comprehensive student halls search engine. The site saves hours of legwork for students looking for their perfect student accommodation across the UK. The super-fast, responsive site can be searched and filtered in seconds and allows students to contact their desired halls directly at the click of a button without having to create a user account.
Internationally acclaimed designer Alexander Purcell Rodrigues has turned his sights from luxury residential and hotels to student accommodation. Tasked by Atelier Property – the developer behind Ziggurat student living – to design their upcoming rollout of new halls across Ireland, he envisions environments for the students of the future.
-Ends-
Notes to Editors:
For high res images to accompany the piece, please see: https://www.dropbox.com/sh/fjl66a5ae2awgco/AADaZ9dTdSMMSqe1MXgim8Bua?dl=0
For further press information, please contact:
Natalie Garland/Melissa Hobson/James Brooke
Rooster PR
T: +44 (0)20 3440 8924
E: [email protected]
About Mystudenthalls.com
Mystudenthalls.com is the original dedicated student halls search engine. Mystudenthalls.com saves hours of legwork for students looking for the perfect student accommodation across the UK. The super-fast, responsive site can be searched and filtered in seconds and allows students to contact their desired halls directly at the click of a button without having to create a user account.
Mystudenthalls.com is the UK's first and most comprehensive student halls search engine. Every month, tens of thousands of students use Mystudenthalls.com to choose from thousands of high-quality student rooms and pinpoint their home-from-home. Users simply enter their chosen city or university, hit search and start checking out options from the comfort of their living room. Results, which can be filtered by location and budget, display those all-important smaller details crystal clear; from proximity to the shops, to secure bike storage, super-fast Wi-Fi or availability of an en-suite.
For more information, visit https://www.mystudenthalls.com, https://www.facebook.com/mystudenthalls or https://twitter.com/mystudenthalls.
About Alexander Purcell Rodrigues Design
Alexander Purcell Rodrigues Design is an award winning interdisciplinary design studio based in London & Los Angeles, focused on developing original design solutions through a methodology driven by research, context, materiality & functionality.
APR Design works in multiple design fields from architectural interiors for commercial & residential projects to industrial products. Distinguishing itself through its use of innovative methods & form language that juxtapose vanguard technologies & traditional production techniques to create unique design solutions.
Clients include Holly Hunt, May Fair hotel, Promemoria, Ziggurat, Radisson Edwardian, MGM, Clivedale London, Atelier Property, Adidas, Paul Smith, M&C Saatchi, Polycom, VMT, Hall Wineries and Factory San Francisco. Work of APR Design has been exhibited in museums including the London Design Museum, SFMCD & The Mint Museum.
For more information visit http://www.alexanderpurcellrodrigues.com/