From Wings to Wheels! WOW Air Introduces New Bike Rental Scheme
First scheme of its kind in Iceland.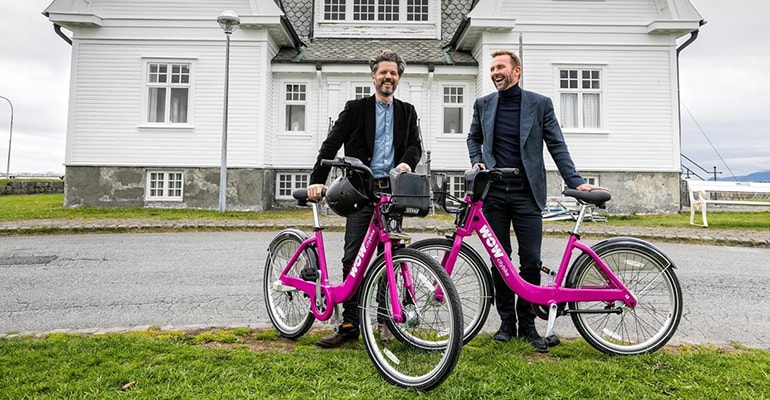 Together with the Icelandic capital of Reykjavik, low-cost airline WOW air has launched its very own bicycle sharing scheme, WOW citybike.
Similar to those in popular tourism spots around the world, the new initiative offers an affordable and convenient means of travel around Reykjavik and will allow residents and travellers alike to be environmentally considerate while travelling through the city. At the same time, cyclists can see the capital from a different viewpoint and adopt a healthy mode of transport.
An initial 100 bicycles have been introduced at eight stations, strategically placed around the city which are all solar powered. The bikes can be used for up to 30 minutes at a time at a cost of 400ISK (around £2.90), with an additional 600ISK for every additional 30 minutes. Memberships can also be bought, ranging from 30 days (ISK 3.900) to one year (ISK 16.900).
"Cycling is a great way to travel. It's good for your health and the environment and we are grateful for the promising partnership between WOW air, PBSC and the City of Reykjavik," says owner and CEO of WOW air, Skúli Mogensen.
"At WOW air we're focused on bringing attention to how people can adopt a healthier lifestyle, through events such as the WOW Cyclothon, and this is another step in that direction, by getting people biking and enjoying the great outdoors!"
Dagur B Eggertsson, Mayor of Reykjavik, commented: "I'm really excited that this initiative has become a reality. We have been aiming for this in Reykjavik for some time and we thank WOW air for their cooperation. The city supplies the land and WOW air oversees the operation. The bicycles are bright and sturdy, but also easy to ride. I hope that citizens of Reykjavik and travellers to the city will embrace this venture and explore the city on two wheels."
WOW citybikes are rust and corrosion proof with aluminium frames and steel accessories. The bikes have three gears, handle breaks on both handles and adjustable seats. The tyres are also durable and designed to be puncture proof.
Full details can be found at: https://wowcitybike.com/
For more information or to book a flight with WOW air visit www.wowair.co.uk. Fares to Iceland start from just £34.99¹.
-Ends-
¹ Based on lowest one way fare from London Gatwick on the WOW Basic package, including taxes and charges, booked via www.wowair.co.uk. Restrictions and booking/baggage fees may apply.
For further press information please contact:
Stuart Fyfe/Katie Raby/Rachel Sewell/Alex Fenton
Rooster PR
T: +44 (0) 20 3440 8930
E: [email protected] 
About WOW air
WOW air is Iceland's ultra-low-cost transatlantic airline offering cheap fares, a modern fleet with the lowest emissions and the biggest smile; this is the WOW air promise to its valuable customers.
WOW air flies twice-daily from London Gatwick to Reykjavik. As of summer 2017, the airline will serve 33 destinations across Europe, North America and Canada, including London, Edinburgh, Bristol, Washington DC, Boston, San Francisco, Los Angeles, Montreal, Toronto, Miami, Pittsburgh and New York.
Created in November 2011 by Icelandic entrepreneur Skúli Mogensen, the purple airline flies with Airbus A320 aircrafts and Airbus A321/A330 models. WOW air boasts one of the world's youngest fleets, with an average aircraft age of just 2.5 years.
WOW air was ranked as the 7th best low-cost airline in Europe at the 2013, 2014 and 2015 Skytrax World Airline Awards and was the youngest airline in the top ten.
For more information: www.wowair.co.uk