Need to Get Some Practice in Before Wimbledon? London's Tennis Courts One Third of the Price of Tokyo's
As tennis courts book up during Wimbledon season, ECA International reveals how much you could pay to play in the capital cities of the world's top tennis players.
It is now less than a week to go until the Wimbledon Championships begin! ECA International's latest Cost of Living Survey reveals that Central London's tennis courts are a third of the price to rent per hour of Tokyo's. ECA's latest findings review the cost for expatriates to hire out tennis courts in the capital cities of the world's top tennis players.
As UK cities drop out of the top 100 most expensive cities to live in, Central London's courts now cost £12.10 per hour. While for Andy Murray in Scotland, Edinburgh's are even cheaper, available to hire at £9.40 per hour.
Tokyo comes out as the most expensive location to hire a court out of the capital cities of the world's top-seeded tennis players, costing around £35.90 per hour. This is a whopping £29.10 per hour more than Elina Svitolina's Kiev, Ukraine.
Moscow, in Russia, is the most expensive sample city in Europe, with tennis courts costing £31.40 per hour to hire; almost £20 more than Central London.
Having overtaken UK cities for the first time in three years in ECA's cost of living rankings, Berlin's tennis courts are also more expensive, costing £17.90 per hour.
"For people working or travelling abroad, there will always be surprises when everyday services carry massive premiums or offer fantastic value, and leisure services are no exception, with a tennis court costing nearly £30 more to rent per hour in Tokyo than in Kiev," said Steven Kilfedder, ECA International's cost of living expert.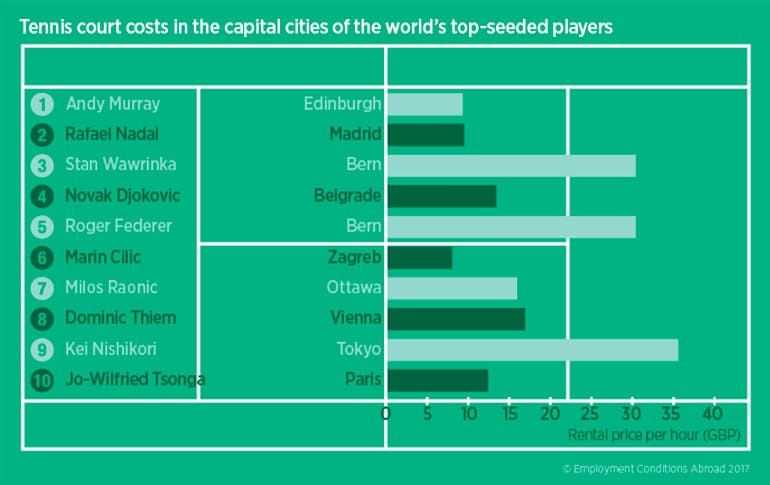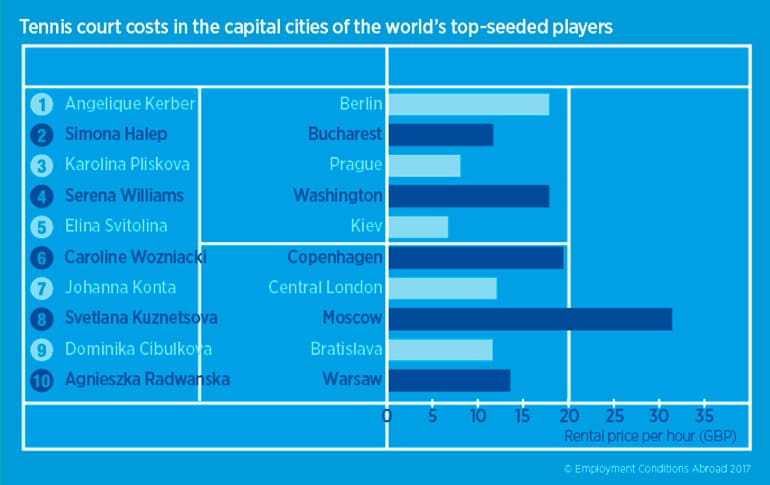 ECA's Cost of Living rankings – UK's capital cities plummet
These figures arise from ECA's latest cost of living rankings, revealing that Central London is now 132nd in the world – down from 65th last year. This is Central London's lowest-ever recorded ranking since ECA first began the cost of living rankings over 10 years ago. Edinburgh has fallen to 165th, Cardiff is now ranked at 175th and Belfast has dropped to 186th in ECA's rankings.
ECA's latest Cost of Living Survey indicates that Central London (132nd) now sits just above Addis Ababa, Ethiopia, in the global rankings and has been overtaken by Rio de Janeiro (88th), Bangkok (116th), Dublin (120th) and Berlin (122nd).
Tokyo is the 7th most expensive city in the world according to ECA's latest cost of living rankings. The comparative strength of the Swiss franc has contributed to Switzerland remaining as one of the most expensive countries surveyed in the world, with Zurich 3rd globally, Geneva 4th, Basel 5th and Bern 6th. Kiev, which is currently ranked 257th, remains one of the cheapest locations in the world for expatriates.
Published by ECA, the world's leading provider of information, software and expertise for the management and assignment of employees around the world, the Cost of Living Survey compares a basket of 163 like-for-like consumer goods and services commonly purchased by international assignees in over 460 locations worldwide. The survey allows businesses to ensure that their employees' spending power is maintained when they are sent on international assignments. ECA International has been conducting research into cost of living for over 45 years.
Luanda is now the most expensive location in the world for expats
Luanda has risen from 8th position last year to top ECA's global rankings this year.
"Prices of goods typically purchased by international assignees in Luanda, which were already high due to poor infrastructure and strong oil-fuelled demand, have been pushed up much further in the last year. The Angolan kwanza is increasingly overvalued, which raises related costs, while the continued weakness of the black-market exchange rate has also inflated prices of imported goods," added Kilfedder.
Global top-10 most expensive locations for expatriates
| | | |
| --- | --- | --- |
| Country | Location | Ranking 2017 |
| Angola | Luanda | 1 |
| Hong Kong | Hong Kong | 2 |
| Switzerland | Zurich | 3 |
| Switzerland | Geneva | 4 |
| Switzerland | Basel | 5 |
| Switzerland | Bern | 6 |
| Japan | Tokyo | 7 |
| Korea Republic | Seoul | 8 |
| Venezuela | Caracas | 9 |
| Sudan | Khartoum | 10 |
For more information visit www.eca-international.com.
-Ends-
Notes for editors
Rooster will coordinate comment and interview opportunities for Steven Kilfedder, Production Manager at ECA International.
For further press information, please contact:
Yasmine Triana/Aaryn Vaughan/James Brooke
Rooster PR
T: +44 (0)20 3440 8934
E: [email protected]
About ECA International (www.eca-international.com)
ECA International (ECA) is the leading provider of knowledge, information and technology that enables businesses to manage their international reward programmes.
Partnering with thousands of clients on every continent, ECA provides a fully-integrated suite of high quality data, specialist software, consultancy and training. ECA's unparalleled insights guide clients as they mobilise their most valuable resource: people.
ECA makes the complex world of international mobility simple, providing clients with the expertise and support they need to make the right decisions – every time.
ECA International: Mobility solutions for a world that's constantly moving.
Follow ECA on twitter: @ECAintl
About ECA's Cost of Living Survey
ECA International's Cost of Living Surveys are carried out in March and September using a basket of day-to-day goods and services commonly purchased by assignees.
Cost of living indices are used by ECA clients to calculate cost of living allowances for assignees. The survey covers:
Food: Groceries; dairy produce; meat and fish; fresh fruit and vegetables
Basic: Household goods; recreational goods; general services; leisure services
General: Clothing; electrical goods; motoring; meals out; alcohol and tobacco
Certain living costs such as accommodation rental, utilities charges (electricity, gas, and water), car purchases and school fees are not included in the survey. Such items can make a significant difference to expenses but are usually compensated for separately in expatriate packages.
This comparison of cost of living was calculated on a base composed of various developed countries and is used to reflect an international lifestyle. Other indices available from ECA reflect specific city-to-city comparisons and different levels of shopping efficiency.
ECA's blog provides updates and commentary on currency, inflation and expatriate cost of living. Follow the blog here: https://eca-international.com/insights/blog