Cool Things you could Win FREE for your Dad this Father's Day (and he'll never need to know)
Brits now have the chance to win their money back on gifts bought online for Father's Day through newly launched site, Boom25.com. Making winners from online shoppers, Boom25 refunds every 25th customer for their online spending at over 500 trusted UK stores and counting including Currys PC World, Stubhub, Superdry, Schuh, Ticketmaster, Wilko.com and M&S, no matter the value of the purchase.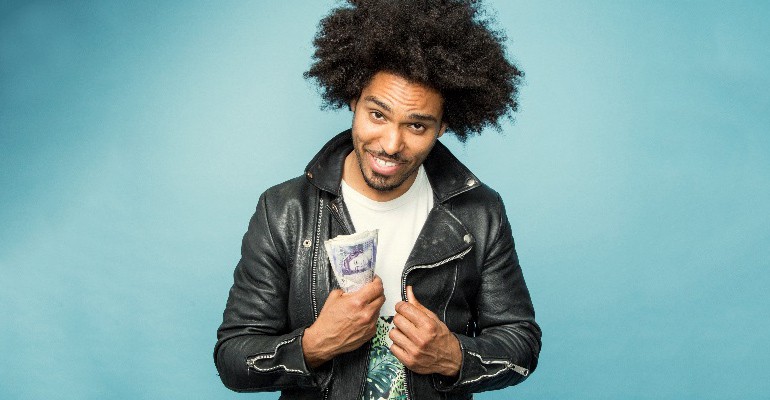 Boom25 has collected a list of cool Father's Day gifts that you could win free by searching for the retailer via Boom25.com, along with some great value offers to help save money while treating your Dad this year. Boom25 is also offering £15 Amazon gift cards for any purchases made via Boom25.com over £30* – so you can either treat yourself or get your Dad that little something extra! If you're the lucky 25th shopper then happy days – you'll still win your money back as usual. Head to www.boom25.com to take up this awesome offer.
From £16.99 to £140, here's a list of the top 20 coolest things to get your Dad this Father's Day through Boom25.com, whatever your budget.
Percy Nobleman's Beard Balm – £16.99
If your Dad is fashioning Merlin's beard, this balm is designed to keep beard hair tamed and under control and helps to treat beard itch and beardruff. Search for Boots on Boom25.com and you can grab this beard balm for just £16.99. Boots is also currently offering 3 for 2 on selected beard care products so you could treat your dad to a selection (or keep a couple for yourself) and still have a chance to win the money back**.
1 Month gym pass – £18.25
Whether your Dad's a gym buff or needing a cheeky hint to hit the treadmill, search for payasugym on Boom25.com to give him the opportunity to try out a new local gym for either a one day, one month or three month pass.
The Stone Roses – £24.99
Your Dad will forever be grateful for taking him to see the legendary The Stone Roses, currently on tour throughout the UK this month. Tickets are going from £24.99 each – search for Stubhub at Boom25.com.
'DAD' personalised photobook – £30
The best Father's Day gifts are the ones that make your Dad tear up. Collect all the best baby photos of you and your Dad to make the most tear-jerking photobook you can muster. Search for photobox on Boom25.com where 'DAD' personalised photobooks are available from £30.
Micky Flanagan 'An' Another Fing' tour – £30.75
Go 'out-out' with your Dad this month and treat him to see one of most hilarious British comedians, Micky Flanagan. Tickets are available from £30.75 and shows are taking place throughout the UK from Leeds to London. Check out ticketmaster on Boom25.com to be in with the chance to win your tickets free.
Superdry Polo Shirt – £34.99 (or £27.50 with special offer)
What's your Dad's colour? Charcoal Marl Spacedye? Lapis Blue? Or perhaps Fluro Pink? Whatever the colour, if you search for Superdry at Boom25.com you can get two classic pique polo shirts for £55**. It's up to you if you want to keep one of them, and don't tell your Dad if you happen to win them both free…
Matchroom Boxing – £40
Grab tickets for you and your Dad to the Frank Buglioni vs Ricky Summers boxing match on 1 July at The O2 Arena, currently going for £40 each – search for Stubhub at Boom25.com and you could use your winnings for more drinks on the night!
Herschel backpack £44 (down from £55)
Family-run, Herschel is a cool Canadian company offering high quality bags and accessories. Search for Topman at Boom25.com where you can buy a Herschel backpack for £44, down from £55**!
Hawkins & Brimble Grooming Gift Set – £44.96 (down from £59.95)**
Using natural ingredients and tailored to complement the modern man's lifestyle, this awesome grooming set contains a pre-shave scrub, post-shave balm, shaving cream, shaving cream brush, moulding wax and beard oil; everything a well-groomed man could need. You can grab this for your Dad for £44.96 if you search for Boots at Boom25.com.
Medieval Lidded Tankard – £45
Search for the English Heritage shop at Boom25.com to find all the beautiful and unique gifts available, including this awesome tankard fit for a king. English Heritage is currently offering free standard delivery for purchases over £40** and a contribution from the sale helps English Heritage to secure the spectacular and unique heritage for future generations to enjoy.
Personalised dressing gown – £49.50
Everyone wants one of these to feel like royalty at home – a very swanky personalised dressing gown with the first letter of your Dad's name. They're only available online so search for M&S at Boom25.com to order the letter you need, and you could win the cash back!
Amazon Echo Dot – £49.99
The very cool, very smart, Amazon Echo Dot is Amazon Echo's better-looking little brother. Treat your Dad to his very own Alexa so he can show off to visitors. Select Currys PC World at Boom25.com to win a refund on a smart tech and gadgets.
Smartbox experience voucher – £49.99
They might not admit it, but Dad's do love a bit of a pamper. Search for Buyagift at Boom25.com where you can buy a Smartbox experience voucher for £49.99. Your Dad can choose from 1380 experiences from Ice Climbing in London, JCB Dumper Racing at Diggerland in Kent, Ferrari driving experience in Leicestershire, Roman vineyard tour and tasting in Shropshire, Harness Zorbing in Cheshire or a relaxing spa day in locations across the UK.
Dr Martens – £54.99
Classic Dr Martens are a timeless footwear purchase for a very cool Dad. Search for Schuh at Boom25.com and you can get hold of high quality leather Dr Martens from £54.00 (down from £105) with free next day delivery and 10% student discount on top**. And if you win on Boom25.com you'll get it free!
Motocaddy accessory bundle – £55
If you're tired of caddying for your Dad, check out clickgolf via Boom25.com where you can get a useful Motocaddy accessory bundle to complement their trolley. It includes a scorecard holder, a drinks holder and an umbrella holder.
Wireless Sound Bar – £69.97
Whether he likes Rock, Pop, Blues, R&B or Classical, all Dads would be chuffed with a decent sound system. Click through to Currys PC World from Boom25.com to check out the offers currently available for wireless speakers including a JVC TH-WL515B 2.1 sound bar for £69.97, down from £149.99**. If you Boom it, you could win back the cash.
Daniel Wellington watch – £77 (£73.15 with promotional code)
An oldie but a goodie, a good quality watch is always a winner on Father's Day. Check out the Watch Shop on Boom25.com where you can get 5% off with the code: FATHER5 and free next day delivery if you sign up for their newsletter**. Make sure you shop via Boom25.com for a chance the win a refund.
Flight and hotel to Rome – £124
Every Dad deserves a break now and then. Search for Expedia on Boom25.com where you can get some great last-minute package deals, including flight and hotel to Rome for £124**!  Just make sure you search via Boom25.com before booking to have a chance of winning a refund.
Folding bike – £125 (retail price £250)
Lightweight and easy to stash in a car boot or caravan, the Compass Northern Folding Bike is currently available from GoOutdoors via Boom25.com for £125, a significant saving from the recommended retail price of £250**. If you're planning a camping trip with your Dad in the summer this is a great idea for some extra freedom while you're pitched up.
BBQ Pizza Oven & Smoker – £140
Traditional BBQs are boring. What if your Dad could BBQ, smoke meat AND cook a pizza all in the back garden for his friends and family. That's a real BBQ master. Search for Wilko on Boom25 and your Dad will never need to know if you won a refund on your generous gift.
How to win your online shop free
Using Boom25 is easy. Search for your favourite retailer on Boom25.com then shop as normal once redirected to your chosen online store. The retailer will notify Boom25.com as soon as you've made a purchase and if you're 25th in line, you'll win the refund. Your cash winnings will then be sent safely to your PayPal account.
There's no limit on how much you can win or how many times you win, you just need to be the 25th person to shop via Boom25.com.
What's the catch?
All you need is a PayPal account to receive your winnings. Boom25.com partners with trusted online retailers on a commission basis exactly as traditional cashback sites do. However, rather than giving consumers a small amount back on their purchases, Boom25.com collects commission into a big cash prize pot to hand out to every 25th shopper.
No more boring cashback
Giora Mandel, Co-Founder & CEO of Boom25.com said: "Dads are notoriously difficult to buy for and there are so many unique gift ideas online – we wanted to offer some inspiration and to remind people that if you buy your gift via Boom25.com you could win back your money! There's no risk and no extra cost, just do your online shop via Boom25.com and you could win! It's a no-brainer."
For more information and T&Cs, visit www.boom25.com.
-Ends-
Notes to editors:
Rooster will coordinate comment, interview and profile opportunities for Boom25 CEO and Co-Founder, Giora Mandel, and Co-Founder, Zachi Zach.
*Special launch promotion: Available for a limited time, all first purchases made via Boom25.com will receive a reward (£15 Amazon gift card for purchases over £30, 50% cash refund for purchases under £30). If the shopper has won (as the lucky 25th shopper), they'll receive their money back as usual. Full T&Cs on the promotion are available here: https://boom25.com/terms
**Retailer special offers: Accurate at time of writing on 9 June 2017.
For further press information, please contact:
Yasmine Triana/Aaryn Vaughan/Joe Thomas/James Brooke
Rooster PR
T: +44 (0)20 3440 8934
E: [email protected]
About Boom25
Boom25 puts the thrill back into online shopping. Bringing together all the biggest brands from fashion, beauty, travel, sports and technology, Boom25 offers online shoppers the chance to win their money back.
Launched in May 2017, Boom25 is a fun, far more rewarding approach to cashback sites. Rather than pennies and a few pounds here and there, Boom25 offers a full refund to every 25th shopper using the Boom25 site. No catch, no hidden fees, simple!
Partnering with the UK's leading online retailers including Boots, Currys PC World and Expedia, Boom25 collects a pot of referral commission ready to pay out to its lucky 25th shopper. All that is required is an email address and PayPal account for the winners.
Boom25 is registered in England and Wales under the Data Protection Act, complying with stringent regulations under UK trading laws and is advised by BLP and KMPG.
Full T&Cs can be found here: https://boom25.com/terms
To play, search for a retailer here: https://boom25.com/
For more information follow on Facebook (https://www.facebook.com/Theboom25), Twitter (https://twitter.com/Boom25UK) and Instagram (https://www.instagram.com/boom25_/)