Contura Enhances Popular 600 Range
More Flexible Heating Solutions for AW1718.
The Contura 600 stove, one of Contura's most popular ranges, has been upgraded for the AW 17/18 season with new colour, surround and door options, an increased size and, to reflect the enhanced design of the models available in this stove series, even a new name; Contura 600 Style.
Those choosing the Contura 600 Style series will also benefit from improved features, including automatic start, booster system, silent ash pan and improved combustion technology.
"The Contura 600 range produces more heat per log. It's an imposing and elegant statement stove that stands out and adds beauty and style to any space," says Phil Wood, UK Country Manager for Contura.
Contura 610 Style: The smallest of the heavyweights. There's a choice of cast-iron or glass door, and artstone or metal surround. The line of accessories has been extended to include an attractive, practical log storage compartment alongside the stove.
Contura 620 Style: A magnificent statement piece with heat-retaining powerstone and convection damper as standard. It features a robust cast-iron door and the lower compartment can be fitted with a cover.
Contura 620T: Enveloped in heat-retaining soapstone. If you prefer a front cover instead of a warming shelf above the door, choose powerstone for even more heat. A cover can be fitted to the lower compartment.
Contura 690 models: a lot of everything. A large blazing fire raised well above the floor. The models come with a choice of three colours, two doors, two surrounds, a lower door as standard, and optional log storage and heat-retaining powerstone.
These state-of-the-art stoves are produced with great respect for the environment and not only are their emissions far lower than earlier models, they are kind to the wallet too.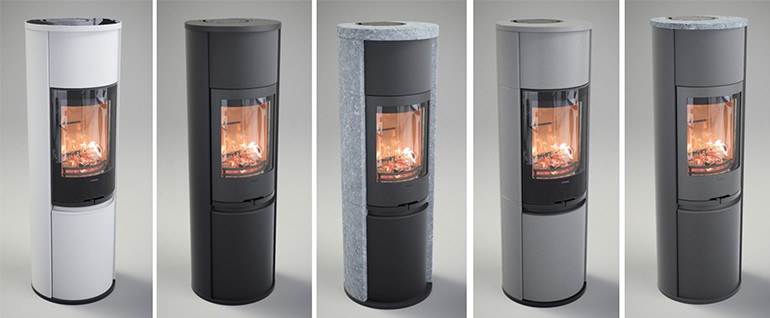 "The Contura 600 Style range takes a place of prominence and fills a home with abundant heat and comfort," says Phil Wood.
A wood burning stove offers a more efficient and more sustainable alternative heating solution to a traditional fireplace or central heating, which in turn helps to cut energy bill costs.
Not only an efficient heating source, wood burners are also an elegant design feature that work well in both modern and period properties.
All Contura stoves offer outstanding performance, maximum efficiency, practicality and ease of use. With 80% heating efficiency compared to only 20% of traditional fireplaces, and thanks to a 3-9kW heat output, the 600 Style can heat a room of up to 120m squared with ease. Further benefits include powerful convection and clean burning systems, ensuring less wood is used, whilst maintaining a high heat output to sufficiently warm even a large open space.
All Contura 600 stoves are Ecodesign Ready, DEFRA Clean Air Act exempt and can be used in Smoke Control Areas.
Based in Småland, Sweden, Contura, is the European market leader in the field and combines traditional Swedish engineering skills with modern design and fingertip sensitivity.
For more information, visit www.contura.eu
-Ends-
Notes to editors:
Rooster PR will coordinate comment, interview and profile opportunities for Contura UK Country Manager, Phil Wood. The Contura PR team will also arrange visits to the nearest Contura Design Centre dealerships or the Contura showroom in Doncaster to see the product range.
For further press information, please contact:
Alex Fenton/Julie Aguilera
Rooster PR
T: +44 (0)20 3440 8930
E: [email protected]
About Contura
Contura is Europe's leading manufacturer of wood burning stoves, offering an extensive range of classic and contemporary wood burners; from traditional insert stoves suitable for existing fireplaces, to freestanding statement models made with innovative materials such as soapstone.
Starting at £1,195, Contura stoves are premium yet affordable. Award winning, timeless Swedish design means the products complement or enhance any style of home, whilst also offering outstanding performance, maximum efficiency, practicality and ease of use.
Designed and assembled at the factory located in Markaryd, Sweden, and manufactured to the highest standards, Contura stoves are highly energy efficient, offering powerful convection, superior combustion technology and clean burning systems. Currently, 75% of Contura stoves are DEFRA Clean Air Act exempt and thus approved for use in Smoke Control Areas.
Contura stoves can be purchased through a network of 165 independent retailers nationwide.
Contura is part of the NIBE group, a Swedish manufacturing company producing world class solutions in sustainable energy across Europe, North America, Asia and Australia.
Contura is a founding member of the Stove Industry Alliance (SIA) in the UK.
For more information please visit www.contura.eu.