Could this be One of the Most Valuable Tweets in the World?
A-Listers rally to offer support for victims of Manchester terrorist attack.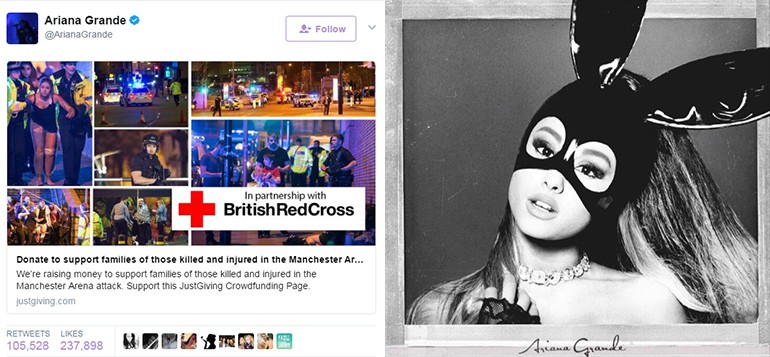 In the aftermath of the Manchester terrorist attack, JustGiving has seen a huge wave of support across its pages and on social media, but one tweet, in particular, has played a huge role in helping the British Red Cross exceed their £1million target and that was a very special post from Ariana Grande. 
https://twitter.com/ArianaGrande/status/868167816939278337
The tweet encouraging followers to support the We Love Manchester Emergency Fund has already generated a whopping £361,000 for the emergency relief appeal, from over 2,172 direct donations.
In total, nearly £4million has now been raised, from online JustGiving fundraising campaigns to support the victims and their families from over 123,832 donations.
Other A-Listers rallying to offer their support include US rapper Eminem who has asked his fans to donate to the JustGiving page set up by the Manchester Evening News.
Join me in helping Manchester victims & their families, Make a donation to the @BritishRedCross and @MENnewsdesk https://t.co/JchJtYOdMU
— Marshall Mathers (@Eminem) May 25, 2017
US pop star Justin Timberlake also encouraged fans to contribute to the victims of the Manchester bombing. Following the terrorist attack, Timberlake posted a tweet expressing his sorrow for those affected by the horrific events.
"We need to do better. We need to love one another," he wrote. Justin Timberlake (@jtimberlake) May 23, 2017
British actor Tom Hardy even launched his own JustGiving page entitled Tom Hardy's Manchester Emergency Fund (with all proceeds going to The British Red Cross) which has already raised over £37,000.
He stated "I am hoping to raise money for The British Red Cross Society because the families and children will need support…My thoughts and prayers are with all those affected by this horrific act in Manchester."
Grande, 23, suspended her Dangerous Woman tour, including cancelling two shows at London's O2 Arena, following the attack which killed 22 people (including seven children) and injured 59.
But the US singer will headline the One Love Manchester benefit concert for victims of the attack on Sunday at the Old Trafford cricket ground, with support from an impressive line-up including: Pharrell Williams, Usher, Take That, Justin Bieber, Coldplay, Katy Perry and Miley Cyrus.
She said: "I'll be returning to the incredibly brave city of Manchester to spend time with my fans and to have a benefit concert in honour and raise money for the victims and their families."
Rhys Goode, spokesperson for JustGiving, said:  "The generosity created by this one tweet is amazing and reflects the overall reaction to this awful attack. We've come together and created something positive out of this carnage.  Manchester has proven its spirit can't be broken."
Over 150 JustGiving crowdfunding pages were created to raise money to help those affected by the explosion at the Manchester Arena, including a JustGiving page set up by the Manchester Evening News which has now raised over £2million and the British Red Cross We Love Manchester Emergency Fund which has now raised over 1 million.
JustGiving saw 10 times the normal volume of traffic on the site and at one point had 33000 people active at the same time – reaching six donations a second. This has more than doubled the site's previous record for people on the platform at one time.
For further information, please visit:
https://www.justgiving.com/campaigns/charity/redcross/ManchesterEmergencyFund
https://www.justgiving.com/crowdfunding/categories/emergencies/manchester-terrorist-attack
https://www.justgiving.com/fundraising/Tom-Hardy5
-Ends-
For further press information, please contact:
Jane Eggleton
JustGiving PR Agency (Rooster PR)
T: +44 (0)20 3440 8925
E: [email protected]
Notes to Editors:
JustGiving is the world's leading social platform for giving, enabling over 20 million people across 164 countries to raise $4.2 billion since 2001.  As a tech-for-good company, JustGiving re-invests all its profits into the development of world-class technology and innovative tools to fulfil its mission to connect people with the causes they care about.