Foodie Couples Book Luxury Experiences and Women Embrace New Years Resolutions More Than Men in January Sales
Luxury dinner and champagne experiences come out top in Virgin Experience Days as foodie couples book 2017 indulgences
Women sportswear purchases triple the amount of men's in January sales
Men choose fashion over sports in sports brand purchases
Performance marketing specialist, Webgains, has revealed the top experience day and sports brand online purchases in the 2017 January sales. Webgains has analysed data from clients including Virgin Experience Days, Nike, Fitness Superstore, Surfdome and LD Mountain Centre, having recorded almost half a million online transactions this year so far.
All top 10 Virgin Experience Days purchased via the Webgains network included experiences for two, the majority of which include a luxury food or drink theme. The View from The Shard and a three course meal for two was the favoured purchase in the first week of January. The below chart show the most popular categories for experiences booked during the January sales.
Virgin Experience Days for Two bookings in first week of January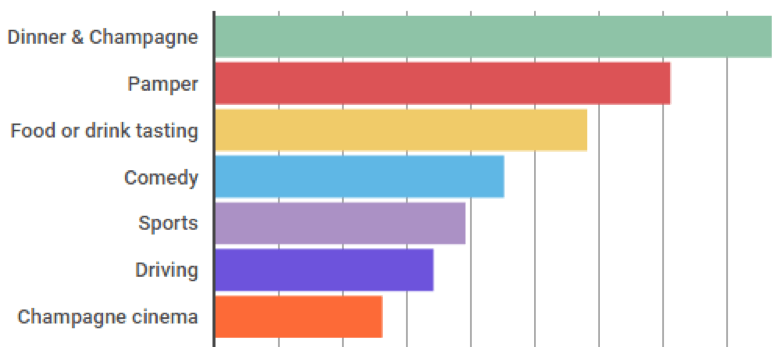 "Couples are booking luxury experiences so they have something to look forward to and counter the traditional January blues. We've clearly seen that January sales are a great opportunity for brands to tap into foodie lifestyles as consumers plan new and interesting experiences for the year ahead," said Richard Dennys, CEO of Webgains.
As expected, sports brand purchases also surged during the first week of January. While running shoes and training leggings were the most popular purchases in female sportswear, Webgains reveals that the majority of men purchased fashion items over sportswear during the online January sales.
Sport brand purchases in first week of January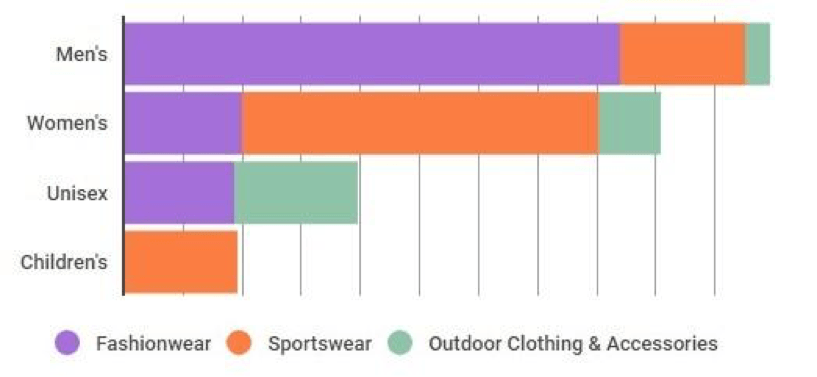 "Losing weight and living a healthier lifestyle consistently top new year's resolutions so we expect to see a surge in sports brand purchases during the first week of January. But, our data shows that women's sportswear purchases were almost triple (185 percent) men's, as men purchased 323% more fashion items from sports brands," continued Dennys.
For more information, visit www.webgains.com.
-Ends-
Notes to editors:
Rooster PR will coordinate comment, interview and profile opportunities for Richard Dennys, CEO of Webgains.
For further press information, please contact:
Yasmine Triana / Aaryn Vaughan / James Brooke
Rooster PR
T: +44 (0)20 3440 8930
E: [email protected]
About Webgains
Founded in 2005, Webgains is an international, result-driven performance marketing company headquartered in the UK. Offering a pay-by-performance service, Webgains focuses on driving sales right off the page, harnessing voucher and cashback sites, price comparison and shopping sites, search, retargeting, remarketing, call tracking, content publishing, blogging, tweeting, email marketing and more.
Webgains operates in 14 markets internationally and currently represents affiliate marketing programmes for over 2,000 brands including Nike, Mothercare, Samsung, Ann Summers, LoveHoney, Snow&Rock and Cotsworld Outdoor, promoting offers and deals across over 250,000 publishers. Webgains is pioneering Powerfeed, the world's most powerful digital assistant in the affiliate marketplace today.
For more information go to www.webgains.com, https://www.facebook.com/WebgainsUK, https://www.linkedin.com/company/webgains, or follow @WebgainsUK.