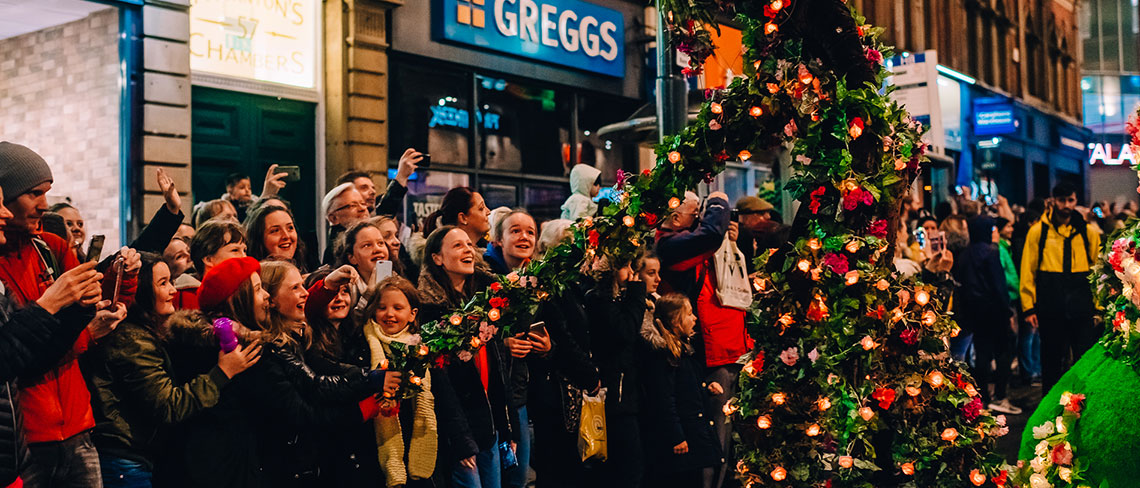 "Developers Vastint UK say Aire Park will be a bustling and open development in the centre of the South Bank with an urban park, boasting more than 500 trees, at its heart.
The scheme aims to provide a vital link in connecting the city centre with the former Tetley Brewery site and the communities to the south of Leeds.
Work on phase one of the development which includes 850 homes, fives acres of park area, a 400-bed hotel, extensive office space and children's play area is due to start in mid-2020."
Andrew Hutchinson, Yorkshire Evening Post
We're no stranger to juggling event planning, media liaison, and direct-to-consumer campaigns, and our latest work with real estate developer Vastint UK was no exception.
Tasked with raising awareness of Vastint UK's upcoming Leeds development, launching the brand and name Aire Park, while also driving footfall to the company's own light installation at Light Night Leeds, there were a number of elements to this creative & educational brief.
Vastint UK's exciting new multi-purpose district will bring a large park to the centre of Leeds as well as new homes, restaurants and offices – transforming the South Bank. Reviewing all of the benefits of the Aire Park district we felt that one of the key messages we'd like to communicate are the 500 new trees that were set to be planted in Leeds city centre.
The Aire Park brand was to be revealed at Light Night Leeds 2019 as Vastint UK hosted its own art installation to engage with and educate the people of Leeds on what Aire Park will bring to the city.
We identified a couple of challenges in our brainstorming for this campaign:
1 – All art installations featured in Light Night Leeds press each year utilise photography and video footage from either previous years, or from other events. As Vastint UK's immersive installation was created bespoke by Novak, we had no imagery to utilise in what is already a competitive event to gain press coverage from.
2 – Vastint UK's installation was one of few south of the river Aire in Leeds. Of 60 installations to get around during the two-day event we had to find a solution to entice footfall south of the river.
After extensive brainstorming and planning, we presented several creative ideas to maximise every opportunity for press coverage and interaction with visitors to Light Night Leeds.
The winning idea was to literally let the trees take over Leeds. Commissioning walking, talking trees beautifully lit up to complement the event, we not only secured Vastint UK a position in parade (of which only 8 acts were featured), we also drew the attention of all press and public.
We also worked closely with the press and with the council in the weeks running up to the event to promote 'Pleasance' while communicating various Aire Park key messages, as well an official press launch of the Aire Park brand.
In order to secure our place in all press coverage before, during and after the event, we hosted a staged preview night with the light installation in order to capture imagery.
Armed with a photographer, videographer and our warmest coats, the team hit Leeds for Light Night's press preview to capture photos and video of Pleasance, with an overnight turnaround ready to sell in to press first thing the next morning.
By combing quick thinking on our feet and extensive media liaison, the results included more than 50 pieces of coverage – featuring in the BBC's headline video on Light Night and an interview with Vastint UK's managing director in the Yorkshire Evening Post, a key regional publication.
But of course the real highlight was seeing the circa 80,000 visitor's faces light up in the crowds as our mesmerising 'Dream Trees' walked past!
Want to learn more? Listen to Rooster's We are pr podcast on the campaign here.