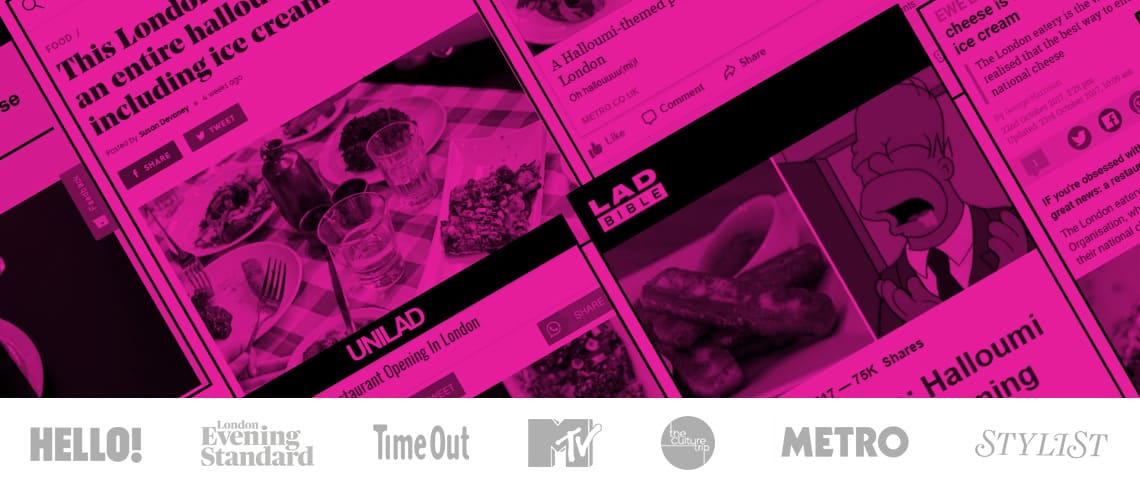 Say Hallou-mi to Cyprus' First Pop-Up
When we were briefed by the Cyprus Tourism Organisation to develop a creative event to generate widespread coverage and raise awareness of the destination, we knew it was going to be a fun project. Our approach was clear: Everyone loves halloumi (which just so happens to be Cyprus' national cheese). And the way to people's hearts is through their bellies, right? 
So, working with 100 Hoxton in East London (an area known for its trendy pop-ups), we set up an exclusive halloumi-themed pop-up restaurant with halloumi in every dish on the menu (including a halloumi ice cream for dessert!).
Once the planning was done, it was time to tell the world. We'd hoped the media would respond positively and let's just say we weren't disappointed. 
Within an hour of issuing the announcement press release, Metro had run the story and our first booking had already come in. The next day Time Out had run a piece and we were up to 80 bookings. Just five days after the announcement, the restaurant was sold out with coverage across the Evening Standard, LAD Bible, Unilad, Hello!, Stylist, The Sun, Huffington Post, MTV, The Culture Trip and countless others – not to mention support from famous Cypriot entrepreneur Theo Paphitis in the Daily Express. Oh, and the pop-up was so inundated with bookings (1,500+) that it sold out despite being extended to a two week run!
The pop-up by numbers…
Two week duration
First week sold out in less than five days
69 pieces of coverage 
Online readership of 1.35 billion
155,000 social shares
1,500+ bookings
4,750 dishes served
188 kilos of halloumi consumed
1,150 halloumi fingers eaten
1,900 bowls of halloumi ice cream devoured
& so many GRATE (sorry!) cheese puns…
But crucially, 2017 is set to be another record-breaking year for Cyprus with UK visitor arrivals on track to significantly exceed 2016 numbers.