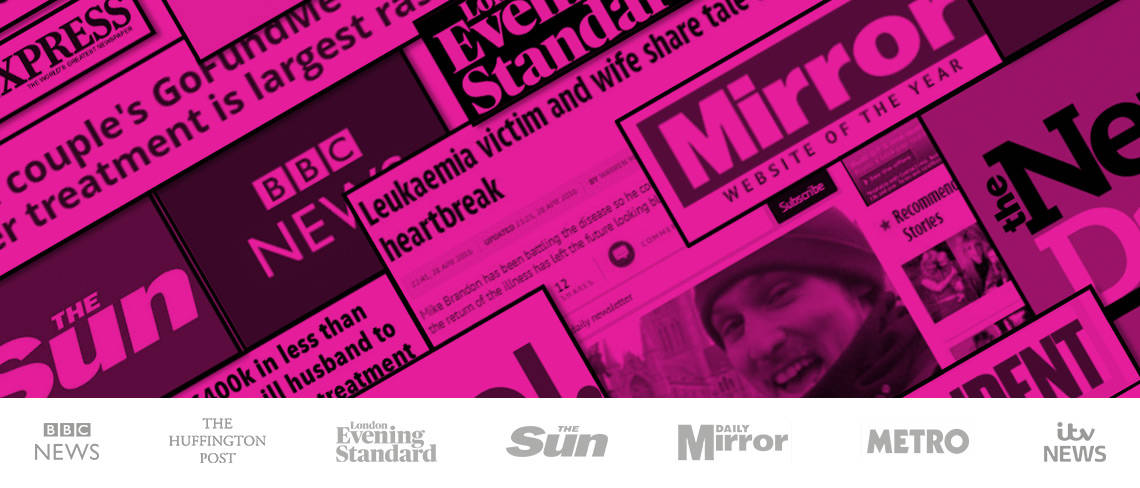 #Donate4Mike Raises £445,000 in 12 Days!
In April 2016, Rooster helped promote the GoFundMe #Donate4Mike appeal which officially became the largest GoFundMe campaign ever in the UK. The campaign received blanket press coverage across the national media, went viral online and raised a staggering £445,000 in just 12 days, from over 22,000 individual donors!
Kate Brandon from Bristol had just days to raise £400,000 so her husband Mike could receive life-saving cancer treatment in America. Alongside a generous £10,000 donation from GoFundMe, the Rooster team embarked on a full scale PR push, helping the family and their support team secure extensive media coverage to raise awareness of their GoFundMe page and encourage donations. 
Coverage included articles across over 40 media titles, half of which were national pieces including features in The Sun, the Daily Mirror, the Daily Mail, The Independent and coverage on BBC News and ITV News as well as interview requests from Good Morning Britain and Radio 5 Live. The appeal also received high profile online support and social media engagement on the Huffington Post, AOL.co.uk, BT.com and Yahoo.
Our campaign also secured extensive regional coverage including pieces in Metro, the London Evening Standard, The Western Daily Press and Bristol Post (both of which also ran follow up articles) including a piece on Kate's campaign being the largest ever UK GoFundMe campaign with a quote from GoFundMe's CEO. The story even reached as far as the Jersey Evening Post and the Guernsey Express and has already gone online for Prima magazine.
The latest news (as of July 2016) is that Mike's treatment in the US seems to have been a success and doctors have revealed that his bone marrow is now completely clear of cancer cells. Follow up stories covering this news have included: BBC News, The Mail, Bristol Post and the Huffington Post.