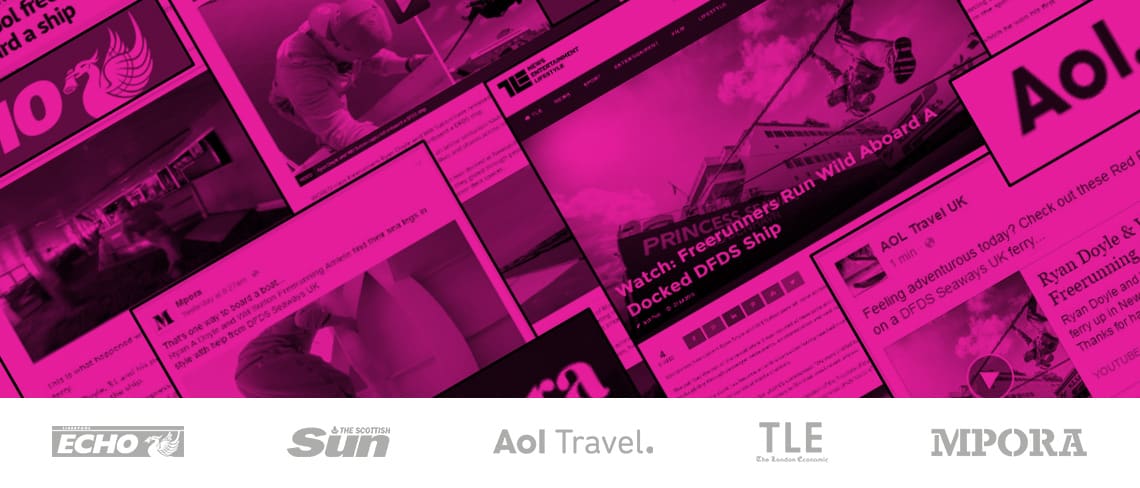 Promoting the Freedom of Ferry Travel
Tasked with promoting the freedom of ferry travel while reaching out to a younger audience, Rooster devised a plan to partner with professional free-runners to create a raw video that captured the essence of space and fun onboard a DFDS ferry.
Working with the specialist film production team at All Conditions Media and Red Bull free-runner Ryan Doyle, we developed a storyboard that allowed the athletes to show off their skills while also showcasing some of the best services DFDS has to offer on board their Newcastle-Amsterdam route.
The resulting video was filmed using Go-Pros held in the mouths of the free-runners to capture unique footage making it more engaging to a younger audience.
The remarkable footage was first seeded through Ryan Doyle's own social channels, generating an immediate buzz across social media, including 9,600 views on Facebook in the first 48 hours. 
Selling in the story the next week resulted in coverage across the UK's leading regional titles including the Liverpool Echo and Chronicle Live, as well as The Scottish Sun and The London Economic, with a combined reach of 11,477,198.
Jumping on the building buzz around the video, Extreme sports title Mpora hosted it on their Facebook page, generating a further 60,000 views while AOL Travel also shared it.
An additional DFDS branded version of the video was created for the ferry operator to host on their own sites, including their company YouTube channel, which garnered 3,201 views.
Over a six month period, the acclaimed video received over 117,000 views (and climbing) helping to dispel the myths that ferry's lack space and are only for older travellers.
On 8th December 2017, the campaign won a Silver Award in the Consumer Relations Campaign category at the CIPR Pride Awards for the North East. More than 950 entries were submitted for the awards from 337 companies, 604 campaigns, 14 teams and 48 individuals across the UK. The winners were selected by a panel of expert public relations professionals.