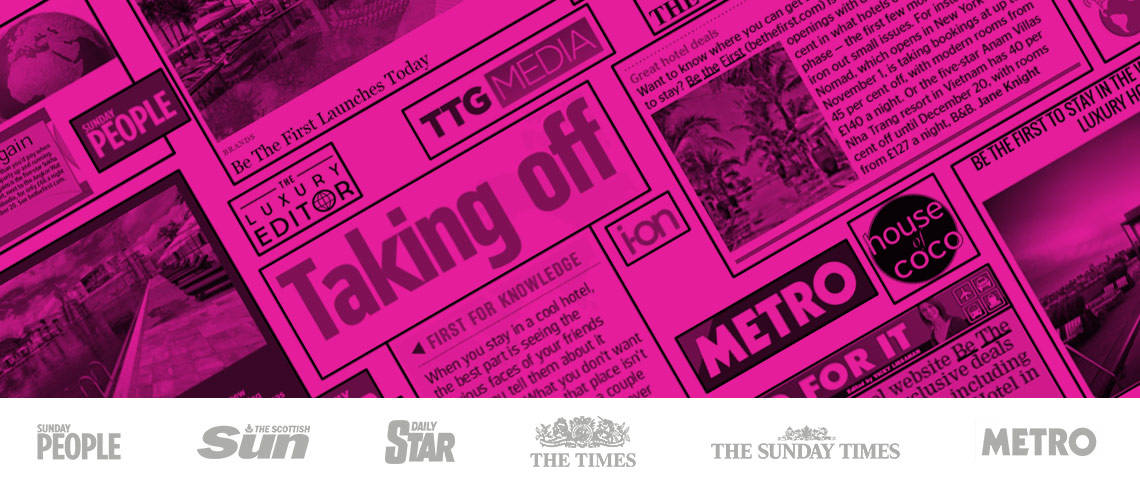 Launching a Travel First, 'Be The First'
In October 2016, Be The First, the world's first travel business dedicated to providing exclusive deals from new luxury hotels and hotel soft-openings, appointed Rooster to generate high profile media exposure around their launch.
A genuinely unique concept, Be The First enables online reservations in new and fully refurbished luxury and boutique hotels worldwide from the moment they open their doors – allowing guests to be the first to visit! The website – bethefirst.com – also provides deals for hotels during their soft-opening phase, before they officially open. Until now, soft-opening deals have largely been an industry secret and rarely found on general sale.
Hitting the ground at a sprint, we quickly activated a stellar media outreach programme selling-in the launch with captivating imagery of the new luxury properties around the world. The team also syndicated out the latest deals on new hotels and soft launches as 'Late Deals' to highlight the great value offers available and responded to destination and feature media requests, pitching Be The First for a host of opportunities from city break round ups to romantic holidays and ski hotels.
Our approach paid dividends with 20 bang on message pieces of coverage secured in only six weeks, including belters in The Times, The Sunday Times, The Scottish Sun, Daily Star, Sunday People and Metro as well as the travel lifestyle websites The Luxury Editor, The Gallivants and House of Coco. Be The First was also featured as ion Magazine's Website of the Month. With broadcast always a priority KPI, we also secured an interview with Suzannah White, Director of Be The First, on Great Destinations Radio Show, which is syndicated across 60 different regional and specialist UK radio stations.
Most importantly though, the splash of coverage drove traffic to the website resulting in over 1,000 sign-ups. Of particular note, the Metro London piece drove 742 unique visits while the Scottish edition led to a surge in visitors from Glasgow and Edinburgh.