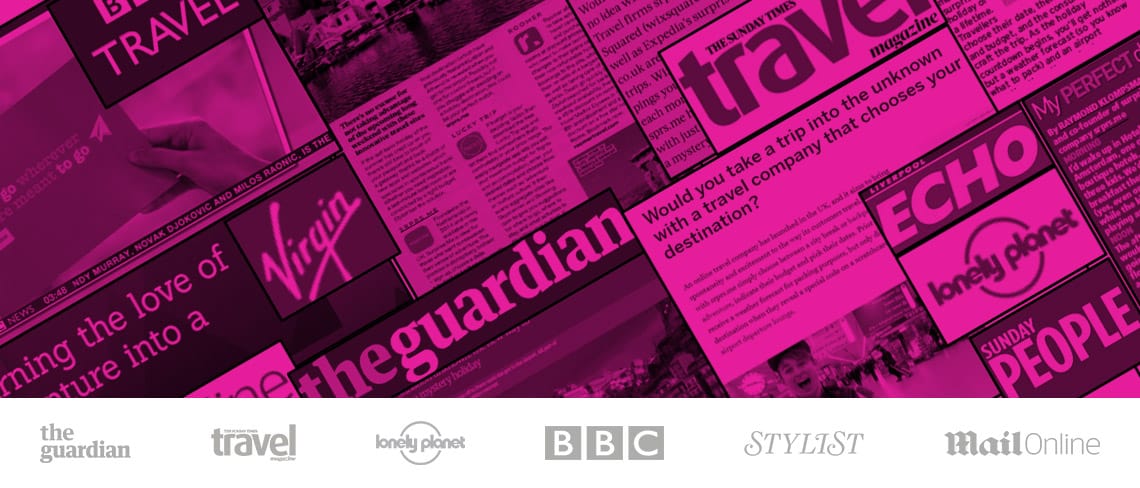 Good Surprises: Making the Numbers Move with Srprs.me
This summer, Rooster was challenged to launch srprs.me whose offer of quality, destination unknown holidays and the message of 'stop control freaking' flies in the face of traditional travel planning. With our close connections in the travel industry, the Rooster team has delivered high impact publicity with meaningful commercial success in the first months since launch.
To deliver the impact through heavyweight press coverage, the Rooster team had two main challenges: Firstly, to convince travel writers, whose job it is to help people plan holidays, to tell their readers not to plan their next holiday. Secondly, we needed to persuade media to break with the mould of destination-based travel writing and take the leap to a surprise press trip reporting on the joys of just seeing, doing and experiencing, rather than ticking-off must see sights.
Rooster's approach centred around a full-hearted commitment to media relations and the use of customer testimonials to persuade media and holidaymakers that they should take a leap of faith with srprs.me and embrace the unknown.
With our first exposure appearing in Lonely Planet backed up by the personal story of one of srprs.me's first users, product news followed with The Sunday Times Travel, Sunday Mirror and more. However, we needed to land big features which educated and inspired young travellers. This happened and the excitement built as coverage from the first 'destinationless' media trips by The Guardian and Mail Online appeared with in-depth articles explaining and promoting the buzz and excitement of srprs.me.
Five months into launch and our work has helped boost booking numbers from single to treble figures, with UK customers accounting for 10% of European bookings. The increase in UK web traffic was supplemented by further media exposure from the likes of Stylist, Virgin.com, The Sunday People, a cracking piece on the BBC's Trending Travel Show and many more. We've helped boost social media followers by 800% and drove a media reach of well over 300 million.
But more importantly, we've proved that the srprs.me model works in the UK and Rooster's persistence has turned an initially sceptical media pool into brand promoters with top writers and influencers lining up to experience srprs.me for themselves.
"The Rooster team has made a big difference for us in the UK. The team understands our brand and philosophy and the quality of their results can be seen in our bottom line. Partnering with Rooster is helping get us to where we're meant to be."
Raymond Klompsma, CEO, srprs.me