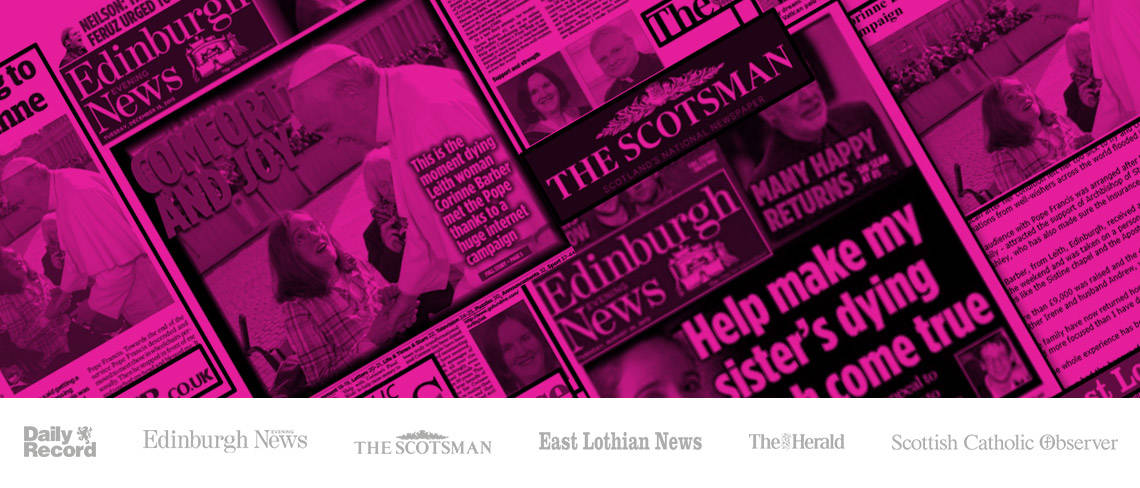 GoFundMe Case Study: Corrine's Final Wish
As part of our work with GoFundMe, the world's most popular crowdfunding site, we are always on the lookout for strong fundraising stories. In August 2015, we identified a particularly emotive story about a dying Scottish woman called Corinne Barber whose last wish was to visit the Vatican. We contacted her family to offer media support to raise awareness and encourage donations.
The first wave of PR resulted in a front page cover on the Edinburgh Evening News as well as over 30 pieces of coverage including features in the Glasgow Evening Times, Fife Today, the Herald and STV. Seeing this front page splash, the office of the Archbishop of St Andrews & Edinburgh contacted our team and offered their support with the pilgrimage. Over the next four months we worked closely with the Archbishop's office and issued regular press releases on campaign milestones to build momentum in the media.
In December 2015, we were delighted that not only did Corinne successfully make the special pilgrimage to Rome but she was also treated to a private tour of the Vatican and had a papal audience where she was blessed by Pope Francis himself!
Over the duration of the campaign, the team generated over 100 pieces of excellent coverage including the Mirror and BBC as well as blanket Scottish coverage, both national and regional (e.g. The Daily Record,  The National, The Herald, East Lothian News, Evening Express, Press & Journal and The Scotsman). Not to mention exposure in specialist Catholic media including The Catholic Herald, Scottish Catholic Observer, the Catholic Universe, and Premier Christian Radio.
Corinne said:
"The whole experience has been beautiful and extremely emotional. I have had the honour of seeing the Sistine chapel, the Apostolic Palace and have been brought to tears visiting the chambers under the Basilica and seeing the bones of St Peter. But, of course, the highlight of my trip was receiving the blessing from Pope Francis."
"My brother says that PR firms do all of their work in the background. I just wanted you to know that what you have done for me means the world and having made it to the Vatican it is only because of your involvement and hard work. I won't forget."