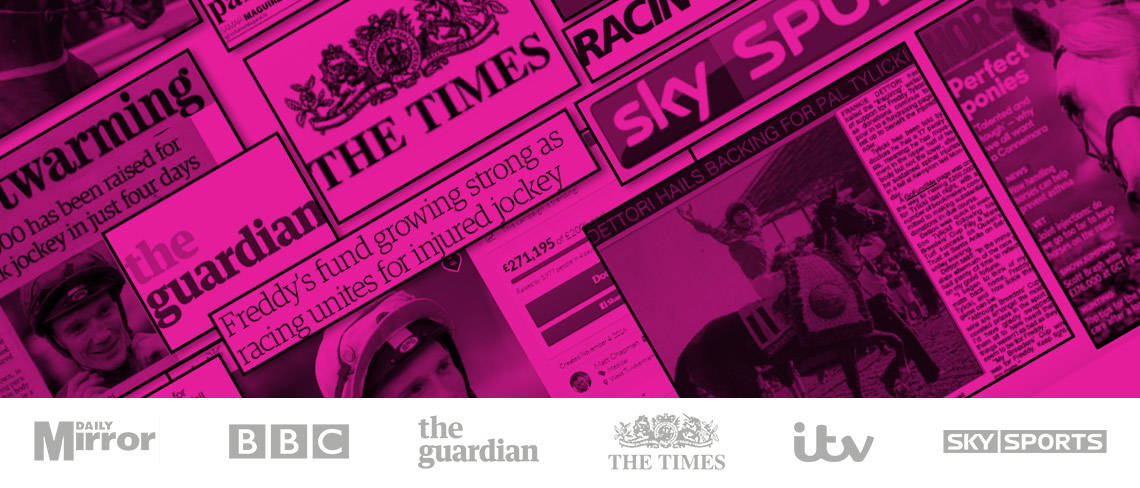 Freddy Tylicki GoFundMe Appeal Becomes Fastest Growing Medical Campaign Ever
In Autumn 2016, Rooster helped promote the GoFundMe campaign for jockey Freddy Tylicki, who was left paralysed following a fall at Kempton Park. At The Races presenter Matt Chapman set up the GoFundMe appeal to raise money for Tylicki's recovery, with an initial goal set of £20,000. With donations soon flooding in, the original target was smashed in a matter of hours.
The appeal raised over a quarter of a million pounds in just three days – £276,105 from more than 4,000 people – making it the fastest growing medical campaign in GoFundMe's history! The medical category is the largest on GoFundMe, having raised £15.5 million for 5,000 individual campaigns from more than 480,000 donors in the UK alone!
Rooster followed Freddy's story, worked closely with Matt and issued three press releases to keep the press updated on key milestones as the appeal gained momentum. Within less than a week, we had secured more than 100 pieces of coverage across the national and broadcast media including: Sky News, ITV, Heart FM, Classic FM, LBC, The Guardian, BBC, The Sun, The Times, Daily Mail and Daily Mirror. There was also extensive coverage across the racing and sporting titles such as the Racing Post, Racing UK, Horse & Hound and Sky Sports. Plus key regional titles including the New Market Journal, East Anglian Times and Derbyshire Times.
We wish Freddy all the best for his recovery.