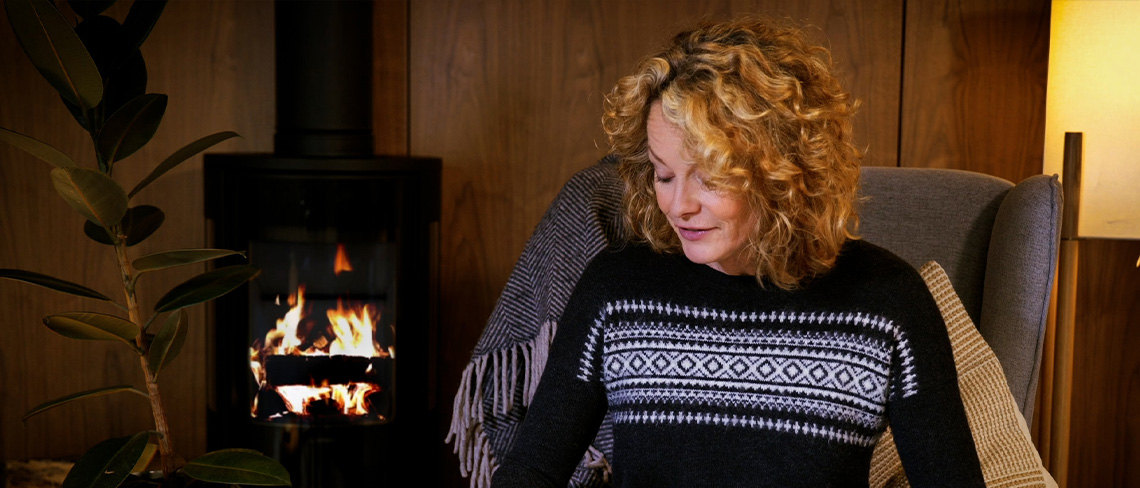 "Creative, clever, and well-executed, Rooster's integrated Cosyology campaign for 2020 perfectly complemented Contura's brand ethos and cosy home focused marketing strategy.
Each aspect of the campaign – creative Fireside Storytelling films, #BritainsCosiest social competition, and topical newsgen consumer insights story – helped to boost awareness of Contura among targeted audiences and position us as a leading lifestyle brand in the UK."
Phil Wood
UK Sales Manager
Contura
 "I really enjoyed taking part in my second campaign for Contura. The stories really resonated with me – they were perfect for the time of year.  And the activity was very well-timed, highlighting the importance of quality, cosy downtime at the end of a really tough year.
It brought some much-needed Scandinavian-inspired comfort and warmth to the British public in the run up to Christmas."
Kate Humble
During the winter of 2019, Contura and Rooster partnered with Britain's cosiest talent, Kate Humble, for a radio day campaign to chat about Cosyology — the Scandi art of being cosy.
To double down on this match made in Scandinavian heaven, we decided that 2020's winter campaign would just have to star Kate Humble again, reading the cosiest short stories we could imagine. All while sitting in front of a roaring fire, of course.
Rooster's Contura team put their heads together to come up with twenty storylines, which were then trimmed down or combined into six final cosy story concepts and agreed with the client (and Kate) before being drafted.
Our resident fiction writer weaved magic to create narratives that were short enough to be succinct, but long enough to cross social thresholds for extra algorithmic weight.
YouTube-optimised content would typically need to be around eight minutes long, however, this campaign was optimised for key audiences on Facebook, where videos need to be over three minutes to qualify for advertising.  So, given an average English speaker's 100-word-per-minute speaking rate, we compiled each story with a 400-500 word count.
The big filming day arrived and went without a hitch. We shot the videos with a team from Ministry of Fun in a function room on London's famous Park Lane. Mid-shoot, the client said the films were already "better than I could have imagined."
Once the videos were edited and approved, we carefully selected the airtime to hit our target audiences. Every Sunday evening at 6pm a new video was released to coincide with the nation settling down to enjoy a cosy evening at home and looking for something good to watch.
Each of the films was premiered, complete with countdown timers, on the Contura Facebook page and YouTube channel on the Monday before their official release. On IGTV, the videos were scheduled through Creator Studio and promoted with a Story countdown to 6pm that Sunday.
We supplemented the premiere posts with reminders in threaded tweets, Story countdowns, and shares of the premiere post throughout the week.
By the end of the campaign, which fell on the final Sunday before Christmas, we'd helped lull the UK into a cosy calm. Our work helped viewers feel relaxed, comforted and ready to tackle the week ahead.
Brits watched our cosy stories 40,410 times from 213,554 impressions. Even when served as YouTube ad preroll, the content enjoyed a retention rate of 17%. This means people not only didn't skip our stories, but 17% of them watched all the way to the end before they started on the videos they actually intended to watch.
Rooster and client were both thrilled with the partnership, campaign execution and the results. Kate's humble and down-to-earth approach and her soothing tones hit the right mark during a tricky year and combined with Contura's cosy credentials, reminded us all of the importance of home, cosiness and downtime.