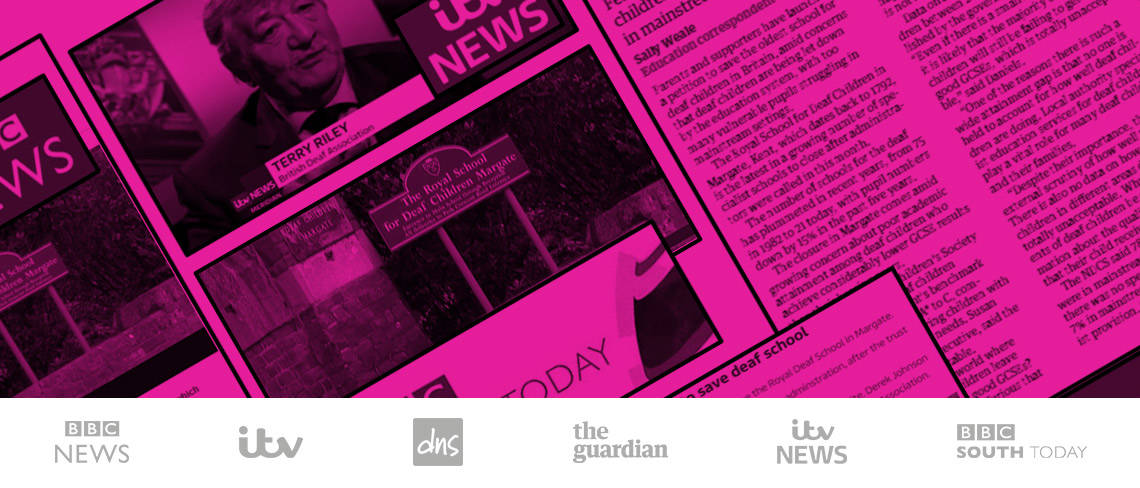 Campaign to Save the Royal Deaf School for Children in Margate
On 11 December 2015, news broke that the Royal School for Deaf Children in Margate was closing with immediate effect after the Trust that runs it went into administration.
As part of our work with the British Deaf Association (BDA), we were heavily involved in this challenging crisis comms situation as the BDA quickly launched a campaign to save this unique and vital heritage. Rooster worked around the clock to provide the organisation with first-class advice and media relations support during this time.
Time was of the essence to raise as much awareness as possible and help protect these vulnerable children. We facilitated strong lines of communication within the organisation, worked with the families affected to support them through press interviews and kept the media informed at every stage.
We secured 18 pieces of coverage over a two week period, including a 3/4 page spread in The Guardian and a pre-recorded feature on London Live TV.  We also set up broadcast interviews with BBC South East and ITV Meridian both before and after an urgent meeting the BDA organised with the Minister of State for Schools, Nick Gibb at Westminster.
Unfortunately, the school could not be saved but the media spotlight helped raise vital awareness of the importance of the issue, ensuring families had as much support as possible to find suitable alternatives for their children.