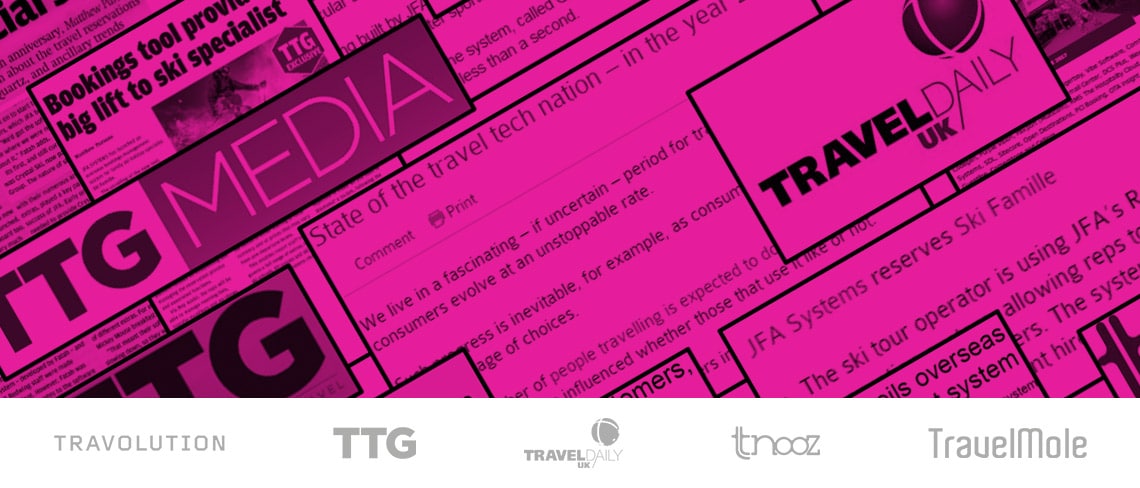 25 Year Secret Revealed to Industry Media
JFA Systems had been quietly brilliant for 25 years developing reservations systems for high profile loyal customers such as TUI and Disney.
With a new MD appointed to fast track growth, Rooster was brought on board to activate a trade PR campaign to celebrate the company's 25th anniversary and drive a splash of travel trade media coverage.
Utilising our unrivalled expertise and deep connections in the travel industry, we developed a strategic PR campaign comprising a series of in-depth interviews, opinion pieces and news announcements with key trade titles.
As a result, we secured coverage in all the major UK travel trades including TTG Media, Travel Daily UK, Travolution, Tnooz and TravelMole, and a double-page interview in the TTG print magazine. Having achieved our objective to raise brand awareness across the travel industry our coverage directly resulted in a number of new business leads and transformed JFA Systems from a relatively unknown company to an expert authority in travel technology and reservations platforms. 
"Thank you for a brilliant job. We wanted to get our name on the travel tech map as no one seemed to have ever heard of us. Well you certainly did that! Your press releases all got published and I have had so many press interviews that I've lost count. And it all seems to be working really well as I am now talking to several potential new customers. The Rooster team did a great job and I found them really helpful and easy to work with. I am not a PR person or a marketer and when I wasn't sure what to do Yasmine, Mel or Aaryn were always happy to help me."
Jim Fatah, Chairman, JFA Systems